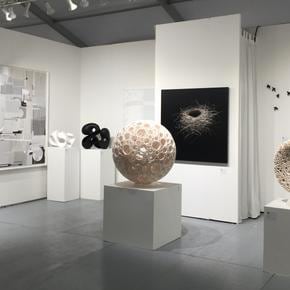 Celebrating its 16th year in Miami, it is with tremendous excitement that SCOPE returns to its location on the sands of Miami Beach, nestled amongst the iconic architecture of Ocean Drive at 8th Street. With stunning views of the ocean and an outdoor lounge, visitors to SCOPE will experience an extraordinary presentation of contemporary art.
Featuring 135 international galleries from 31 countries and 77 cities, SCOPE Miami Beach will welcome over 55,000 visitors over the course of 6 days. Amidst an unprecedented outpouring of critical acclaim from press, curators and collectors, and a digital and social media outreach campaign garnering over 450 million impressions, SCOPE Miami Beach is once again poised to lead the charge for the contemporary art market.
Long-established as the original incubator for emerging work, SCOPE's Breeder Program celebrates its 16th year of introducing new galleries to the contemporary market. A remarkable opportunity for exposure, Breeder Program alumni include: Peres Projects, John Connelly Presents, Galeria Enrique Guerrero, Daniel Reich Gallery, Bischoff/ Weiss, INVISIBLE-EXPORTS, SEVENTEEN, ROKEBY, Taxter Spengemann, Magical Artroom and Spinello Projects, among other notable galleries.
SCOPE Miami Beach opens on Tuesday, November 29, with its Platinum First View Event from 12pm - 4pm, followed by the VIP + Press Preview 4pm - 8pm. SCOPE Miami Beach will be open to the public November 30th - December 4th, 11am - 8pm, daily.
For more information please contact: pr@scope-art.com To register as Press, visit: scope-art.com/press